New Zealand: some personal impressions
Meg and I spent the summer of 1999 in New Zealand (below left), thanks to a lectureship that I received from the University of
Canterbury in Christchurch. In addition to lecturing, we met a lot of wonderful people, traveled all over the south island
(below right), and learned a lot about its culture. These impressions reflect some of our experience.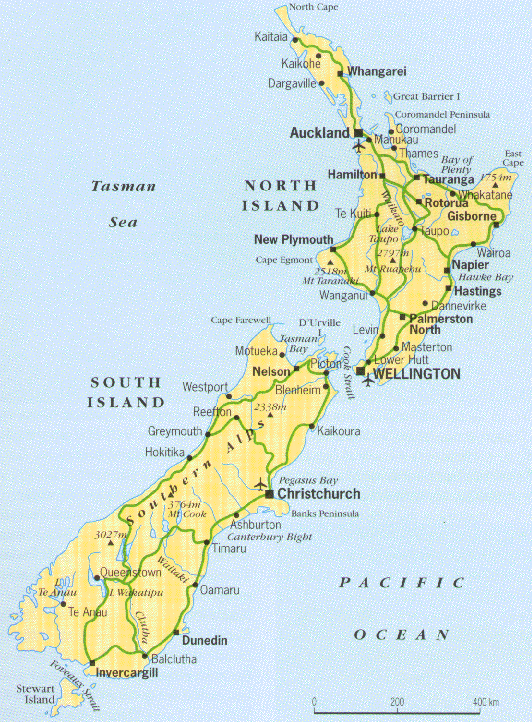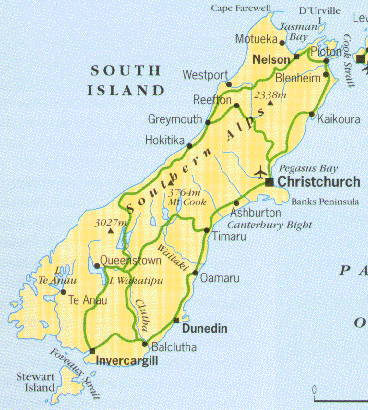 ---
Christchurch, NZ
New Zealand has a population of about 3.5 million people, in which a majority are of English and Scottish descent. About 10%
of the population is Maori, whose language and traditions play a significant role in the culture. We lived in Christchurch, which
has a population of about 300,000 people. Below is the downtown area, looking toward the cathedral. Christchurch is a
wonderful center for the arts, and has a world-famous city choir and orchestra.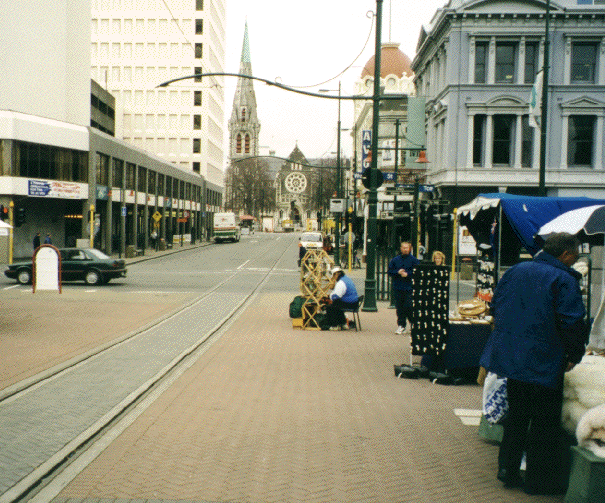 ---
Christchurch - Restaurant/Bunji
The orange building has a very nice restaurant, save for the bunji swing perched above it. There are two people inside that swing! New
Zealand also has lots of Asian influence and a variety of Thai, Indian, Japanese, and Chinese restaurants to complement the fish and chips
takeaways.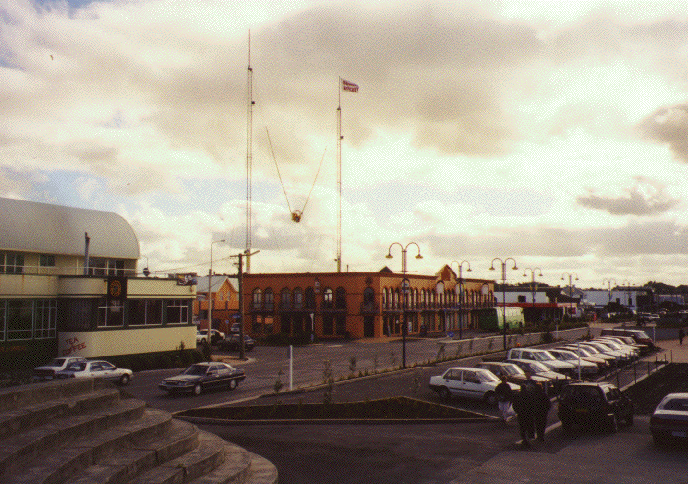 ---
Christchurch - beachfront library
This is New Brighton Beach, which will be the first place in the world to welcome the new millenium on January 1, 2000. The
building in the foreground is the new town library. Note the cars driving (legally) on the left-hand side of the road.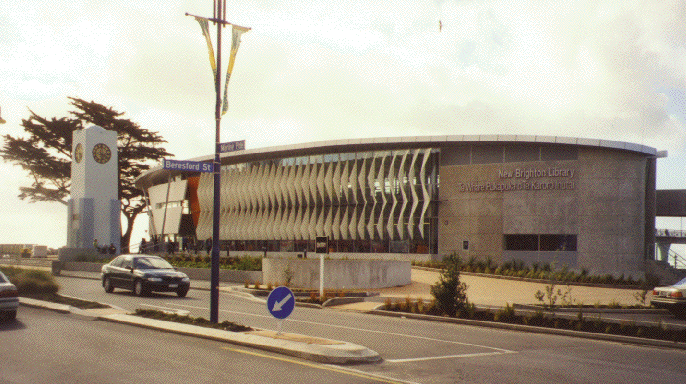 ---

Christchurch - University of Canterbury
The University of Canterbury is one of four major universities in New Zealand. Its programs span the arts, sciences, and engineering.
The building in the foreground is the computer science and mathematics building. For more information see www.canterbury.ac.nz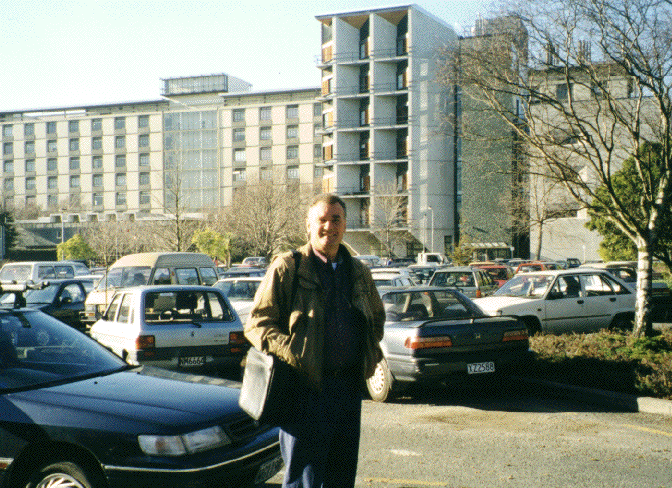 ---

Our home
We housesat for friends who were away for the summer. This is a typical New Zealand home.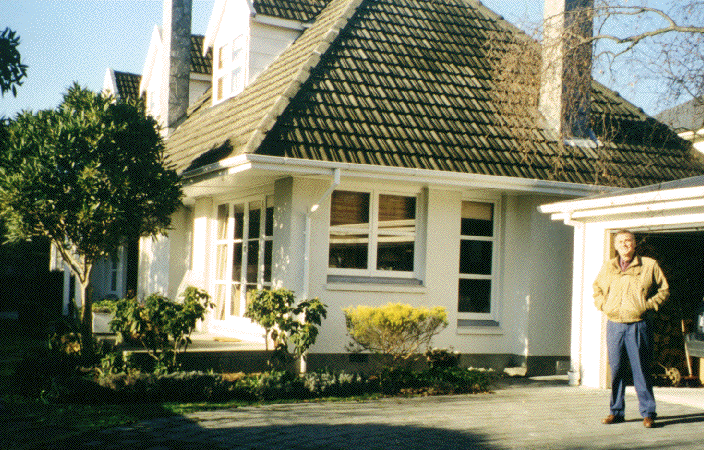 ---
Our neighborhood
... and we took care of their cats (Felix is shown below; Leo was elsewhere at the time of this photo.)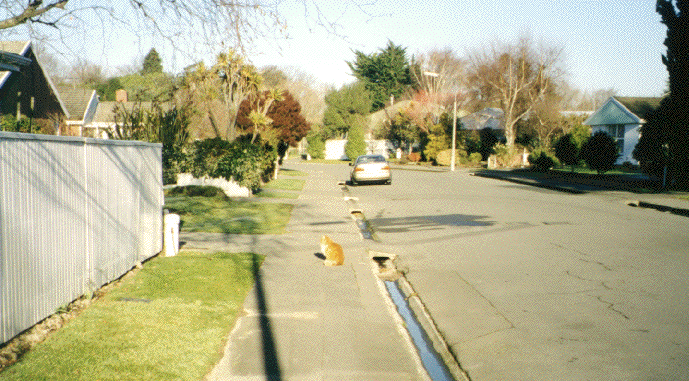 ---
Akaroa/volcanic landscape
New Zealand is a place of vast beauty and wilderness. One of our first trips was to Akaroa, a town on the Banks Peninsula
which was carved out by two volcanoes thousands of years ago.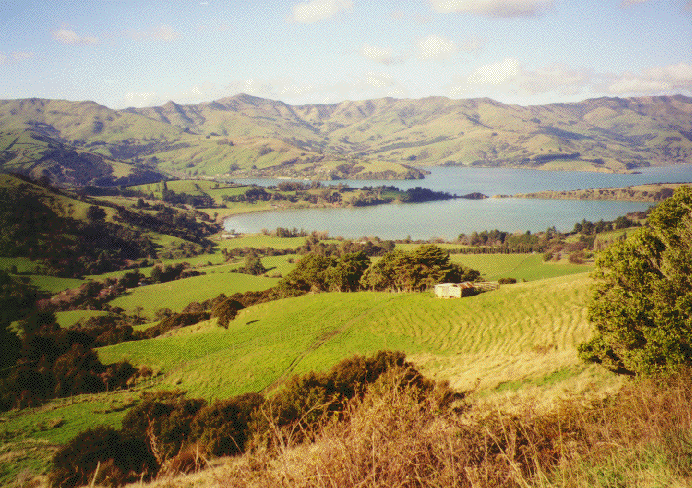 ---
Kaikuru/volacanic sand
Volcanoes helped shape much of New Zealand's shoreline, and many of the beaches have a lot of volcanic ash.